Garlic Shrimp with Angel Hair Pasta
PERFECT PAIRING:
 Enchantress Blanc or Siren Rose
Yield: 4 to 6 Servings
Ingredients:
4 small to medium clementine or tangerine oranges, juiced
16 large shrimp, peeled and deveined
Cooking Option: butterfly the shrimp for added flare
1 teaspoon of paprika
1/4 cup of your favorite olive oil
1 small bunch of fresh dill chopped
1 large pinch of red pepper flakes
1 cup of baby heirloom tomatoes, halved
2 tablespoons butter
1 rounded tablespoon of minced garlic
1/2 cup of chicken or vegetable stock
1/2 cup of Rosé or unoaked white wine
1 cup of your favorite red pasta sauce
6-8 stocks of green asparagus cut into diagonal, bite-sized pieces
6-8 basil leaves, sliced thin
Salt and pepper for seasoning
1 pound of angel hair pasta
1/4 cup of olive oil for pasta
1/4 teaspoon of salt for pasta
Small bunch of fresh parsley leaves for garnish
Freshly grated or shaved parmesan cheese
---
Instructions: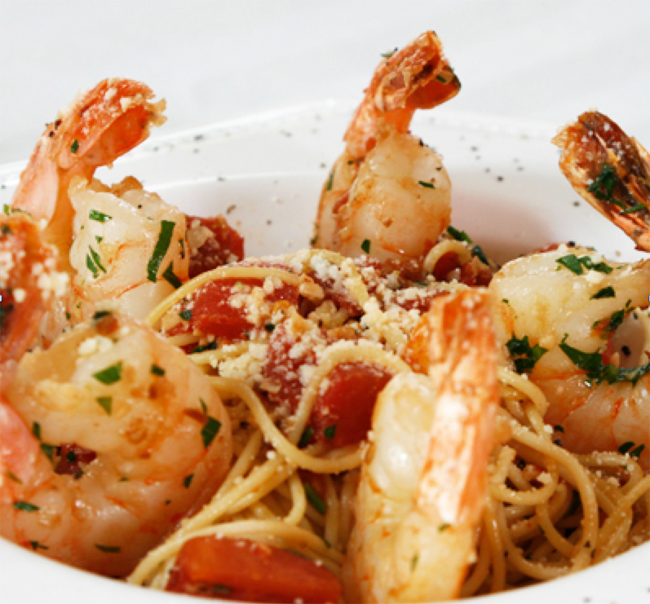 In a large Ziploc bag or bowl, combine the shrimp, clementine or tangerine juice, dill, red pepper flakes, and paprika. Cover and put in the refrigerator for 15-20 minutes.
In a large pot, preheat water for pasta, adding ¼ cup of olive oil and ¼ teaspoon of salt.
In a large skillet, sauté butter and garlic for 2-3 minutes on low heat, being careful not to brown the garlic. Add shrimp to the same skillet, one at time and sauté for 3-4 minutes on a medium heat until pink. Remove shrimp from skillet with a slotted spoon and set aside in a loosely covered bowl.
Reserve the shrimp marinade in a small bowl for the final sauce.
Deglaze skillet by adding the wine and scraping all the little bits off of the bottom of the skillet. Add 1/2 cup of vegetable or chicken stock and bring to a rolling simmer.
Add the reserved marinade. Continue to cook 4-5 minutes on medium heat until marinade is reduced by half.
Add 1 cup tomato pasta sauce and bring to a simmer, approximately 2-3 minutes. Heat to medium and gently fold in the cut asparagus, halved heirloom tomatoes, basil, and cooked shrimp. Simmer for an additional 2 minutes. Add salt and pepper to taste. Remove from heat and cover.
Bring water for pasta to a boil. Add angel hair pasta and cook according to the directions on the package.
Strain pasta and portion into bowls or onto plates.
Liberally ladle sauce over pasta. Garnish with parsley and freshly grated or shaved Parmesan cheese.
Enjoy with good friends and a glass of Ascension Cellars Siren Rosé!