Roast Pork Tenderloin with Thyme, Apples and Fennel
PERFECT PAIRING:
2015 Silver Blanc
---
Yield:
4 Servings
---
Ingredients:
1 large bulb fennel, cored and thinly sliced, 1/4 cup fronds reserved
3 Fuji apples, cored and sliced
1/2 of medium red onion, cut into thin slices
1 teaspoon garlic powder
olive oil
fine sea salt
freshly ground black pepper
2 tablespoons chopped fresh thyme
Fennel fronds, coarsely chopped
2 tablespoons butter, at room temperature
olive oil
1 pound pork tenderloin
---
Instructions: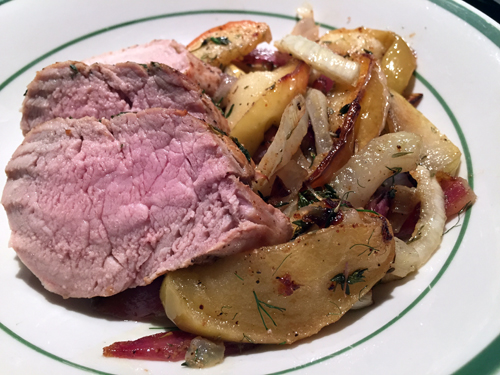 Preheat oven to 425 degrees F.
On a large rimmed baking sheet, toss fennel, apples, onion, thyme and garlic powder with a good drizzling of olive oil. Season with salt and pepper. Place in oven.
Heat a large skillet or sauté pan over medium-high heat. Liberally season pork with salt and pepper. Add one tablespoon butter to the pan. Sear pork all over until golden brown, about 10 minutes total.
After 10 minutes, toss the fennel and apples. Push them toward the edges of the pan to make room for the loin. Add the other tablespoon of butter to the center of the baking sheet to melt. Place the seared pork loin into the center and pour browned butter from the skillet over the top. Roast for 15 minutes or until a meat thermometer inserted into the center reads 145 degrees F. Remove pork to a carving board and let rest for ten minutes, tented with aluminum foil.
Turn off oven. Toss vegetables with fennel fronds and juices. Place tray back into oven to keep warm. When pork is ready, remove vegetables from the oven. Cut pork diagonally into 1/4-inch thick slices. Place vegetables on each plate and then top with slices of pork.
-Adapted from the Gastronomer's Guide