Stuffed Piquillo Peppers
PERFECT PAIRING:
"Trinity" GSM or "Messenger" Mourvedre Blend
---
Yield:
About 20 peppers
---
Ingredients:
(2) 12oz jars of Grilled Piquillo Peppers (I used Private Selection); Can be found in the pickle / relish aisle of your supermarket. Do not use whole peppers as those will require more work for you.
8 oz fresh Goat Cheese, room temperature
5 oz package Mahatma Saffron Yellow Rice
10 oz package of Cacique Pork Chorizo
1/2 cup chunky black and green olive tapenade (any version will do as long as it's chunky and not a spread. Found in the deli section of most grocery stores.)
---
Directions: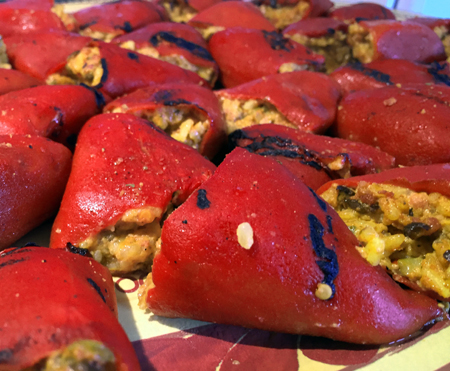 Cook the rice according to package directions, eliminating the oil/butter. You will get plenty from the chorizo. While the rice is cooking, in a separate pan, cook the chorizo for about 10 minutes. Turn off the heat, quickly drain the chorizo to get most of the oil out and return it to the pan. Once the rice is done mix it into the chorizo along with the olive tapenade and goat cheese, allowing it to melt and everything to blend together. Keep mixing until everything is well-integrated. Let cool slightly, so you don't burn your fingers while stuffing.
Drain and rinse the peppers. Pat dry. Have a baking dish handy. Using a teaspoon stuff each pepper with as much of the chorizo mix as they can hold without splitting the pepper. Once they are all stuffed, place them in a 350 degree oven for about 8-10 minutes to heat. Remove from oven and sprinkle with sea salt. Serve immediately.
NOTE: These can be made ahead and then warmed up in the oven. Just heat for an additional 5 minutes. They are even good at room temperature.