About Us
Ascension Cellars is a premium, boutique winery specializing in barrel-select, handcrafted Rhône and Bordeaux-style blends from the central coast of California.
We met because of wine…we bonded over a bottle…we were in the same room for years before we met…then one night fate intervened and we began the journey that we are enjoying today…Wine is about sharing, sharing what's in the bottle, your life, your dreams. We had no idea this passion would bring us here. We all started on this path with a love for friends and food and eventually wine.
Erick Allen, our winemaker, was inspired by his uncle who was a chef and developed a love of crafting delicious food and pairing it with his favorite wines. His job in interior design brought him in contact with a group of passionate oenophiles in Lake Arrowhead who had been making their own wines as a collective for decades. He was adopted into their clan and learned a lot from them, as their love of the process was incredibly inspirational. As luck would have it, through their grape sourcing connections he met Steve Cass. An instant bond was formed as they geeked out about grape growing and winemaking and the joys of Syrah. Steve encouraged Erick to take the leap and make his own wines. Unable to ignore the signs any longer, he made the leap to winemaker in 2010 and has never looked back.
The Dinsmores wine journey began with a few glasses of Chilean Merlot generously shared by a stranger in a tiny apartment in London over two decades ago. That bottle sent them on a path of education and exploration that led them to Paso Robles where they encountered winery owners who graciously opened more bottles and shared their passion. It's a place that immediately captured their hearts with its beauty, unpretentiousness and sense of fun. All of the great wine didn't hurt either. Paso was (and still is) our favorite place to wine. Amazing grapes, great people and no bullshit.
What followed was good fortune by the barrel. Vast support and inspiration came not only from knowledgeable mentors in Lake Arrowhead, who have been making wine together for decades, but also from Paso Robles winemakers who gave so generously of their time and expertise.
We met many people along the way, but significantly Ted Plemins and Steve Cass at Cass Vineyards, who pushed this burgeoning passion to a whole different level. They encouraged us to pursue the wine life and eventually introduced us to each other. We all became fast friends as our ideas about wine and what makes a great one were already in sync. It's been a long, wine-filled road and we are excited to be sharing our adventure with you. We are constantly striving to create the best wines each vintage has to offer - for right now and for years to come.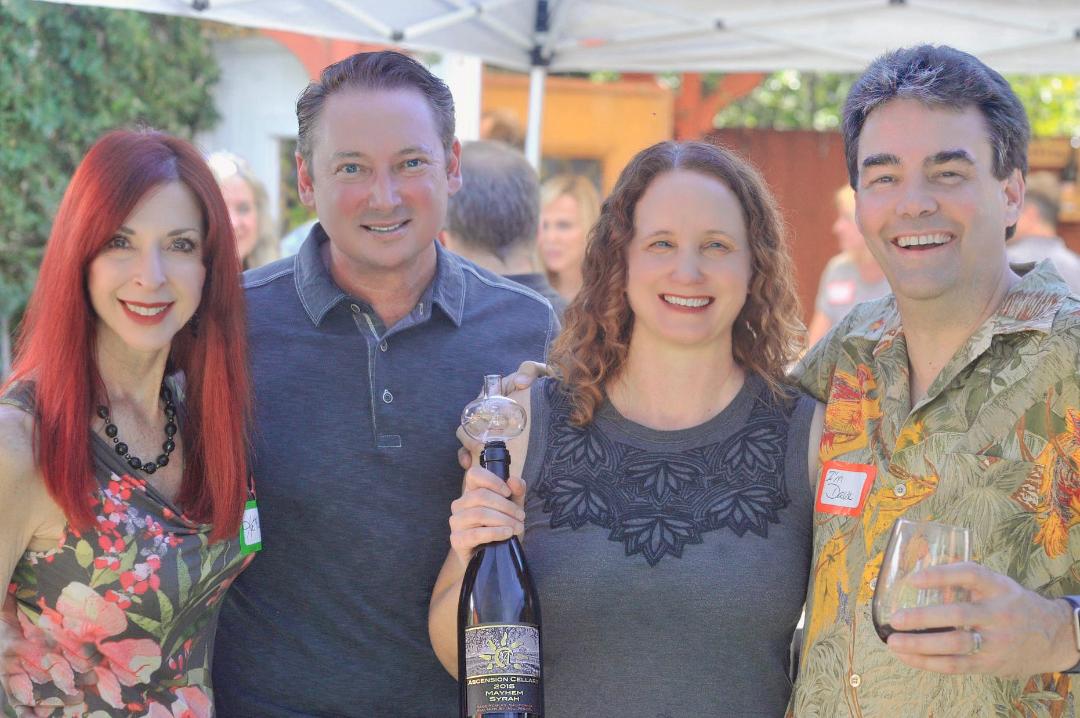 Cheers to many, many more bottles along the way!
Ascension Cellars… Elevate your Senses!