Moroccan-Inspired Kabobs
PERFECT PAIRING:
Testament Bordeaux Blend
---
Ingredients:
½ cup olive oil
squeezed juice from four clementine tangerine oranges
½ teaspoon of garlic powder
½ teaspoon of Kosher salt
½ teaspoon of course black pepper
½ teaspoon of McCormick Gourmet Ras El Hanout Moroccan Seasoning
½ teaspoon of McCormick Gourmet All Natural Korean Style Red Pepper
1-1/2 pounds of fillet mignon or the tender steak or chicken of your choosing cut into 1-1/4 inch cubes, Or Chicken breast.
1/2 pound whole fresh cremini mushrooms or your favorite mushrooms
2 - Sweet medium white or red onions cut into wedges
1 medium sweet red pepper, cut into 1-inch pieces
1 medium sweet orange pepper, cut into 1-inch pieces
1 medium zucchini summer squash, cut into 1/2-inch slices
12 long metal or wooden skewers for kabobs. Tip presoak the wooden skewers for one hour prior to using.
2- Cups of Basmati rice cooked with two cardamom pods and one whole star anise.
17 oz of your favorite hummus. I like Sabra roasted red pepper.
2 packages of your favorite Naan or Pita bread. I like the Stonefire brand.
---
Instructions: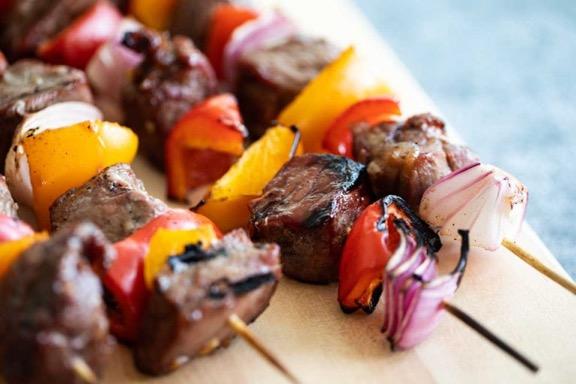 1. In a large bowl, combine first eight ingredients. Add beef; turn to coat. Cover and refrigerate 8 hours or overnight. Tip: I like to use a one-gallon zip lock bag to keep the ingredients in constant contact with the proteins.
2. On 12 metal or soaked wooden skewers, alternately thread beef and vegetables; discard marinade.
3. Cover kabobs with plastic wrap and let set at room temperature for 1-1/2 to two hours.
4. In a preheated 250 degree oven cook the kabobs on an open oven center rack for 30-minutes with a foil covered catch pan underneath to catch any drippings.
5. Remove from oven and let stand for a minimum of 15-minutes. Once you have removed the kabobs from the oven raise the oven rack to four inches to approximately four inches from the bottom of the broiler and turn on the broiler. Option: finish the kabobs on an open gas or charcoal grill in place of finishing in the oven broiler.
Tip: The kabobs can rest if covered with foil or plastic sheeting for up to an hour so they can be finished to perfection when the timing is right for you and your guests.
6. Once the kabobs have rested 15-minutes, finish the kabobs under the broiler for two to three minutes per side until the vegetables have nice brown edges, or on an open gas or charcoal grill.
7. Serve over your favorite rice, garnished with hummus and served with your favorite toasted flat bread or pita. Tip: I like basmati rice cooked with two cardamom pods and one star anise. Once the rice has finished cooking remove the cardamom pods and star anise before serving.
Enjoy!
Erick Allen