Grilled Shrimp, Mango & Arugula Salad
PERFECT PAIRING:
Enchantress Rhone Blanc
This refreshing salad packs a punch of flavor and makes the most of fresh summer produce. It's super simple to prepare, just chop, marinate and grill. Can be a full dinner salad for two or a nice appetizer for a small group of friends. Either way it is a lovely complement to any of our white blends, but especially our Enchantress.
---
Yield:
2-4 Servings
---
Ingredients:
For the Mango Salad
3 ripe fresh mangos, diced (If you are using frozen diced mangos you will need 1-1/2 cups defrosted.)
1 ripe avocado, diced
1 medium red bell pepper, chopped
½ cup chopped red onion
½ cup of sweet corn (If using can corn strain and rinse. I like using fire roasted corn.)
½ cup quartered heirloom cherry tomatoes
½ cup packed fresh cilantro leaves, chopped
1-cup micro arugula
1-cup micro basil
1 Jalapeño, seeded and minced
1 Serrano chili, seeded and minced (optional, if you don't like the heat)
1 large lime, juiced (about ¼ cup lime juice)
1 large clementine or tangerine orange, juiced (about 1/3 cup of orange juice)
1 tablespoon of your favorite "white" balsamic vinegar
1 teaspoon of your favorite honey
⅛ to ¼ teaspoon coarse kosher salt, to taste
4" ring mold for building your salad, optional (I use this to make the presentation more fancy.)
Herdez Mild Guacamole Salsa - we use this as the dressing for the salad. Already pre-made with just the right consistancy. Can be found in the Latin Food aisle of most grocery stores.
For the Grilled Shrimp
2 small to medium clementine or tangerine oranges, juiced
12 large 16 to 20 count shrimp, peeled and deveined
2 garlic cloves crushed and chopped fine
½ teaspoon of paprika
1 tablespoon of your favorite grape seed or olive oil
6- sweet mini peppers, seeded and halved lengthways
½- sweet white onion quartered and peeled, I like Vidalia onions.
¼ teaspoon coarse kosher salt
¼ teaspoon of pepper, I like using a 5-peppercorn medley blend.
1 pinch of red pepper flake
3 metal or wood skewers for grilling shrimp
---
Instructions: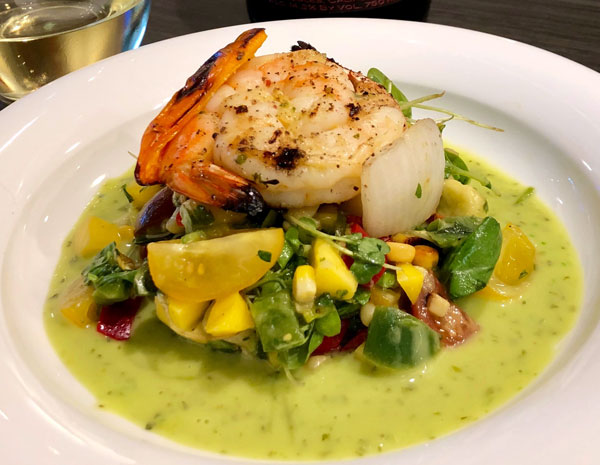 Step 1 Shrimp and Marinade
In a large Ziploc bag or bowl, combine the peeled and deveined shrimp and all ingredients for shrimp skewers, cut vegetables, clementine or tangerine juice, oil, crushed and chopped garlic, red pepper flakes, paprika, salt, pepper, etc., etc. Cover and put in the refrigerator for 20-30 minutes.
Step 2 Mango Arugula and Basil Salad
Prepare / chop all the salad ingredients. Place them in a large bowl gently fold / combine all of the ingredients EXCEPT the dressing. Cover and put in the refrigerator while you prepare and cook the shrimp.
Step 3 Skewer and Grill Shrimp
Add one chopped onion and then two interlaced shrimp creating what looks like a yin and yang symbol, followed by one sweet mini pepper and repeat, for six shrimp per skewer.
Place on a "hot preheated" barbeque grill or oven broiler for 4 minutes per side turning once, leave the barbeque lid or oven door open.
Once your shrimp has finished cooking let stand for 5-minutes to cool on a wood cutting board or elevated cooling rack loosely tented with aluminum foil or wax paper.
Step 4 Build Your Salad
Remove the Mango salad from the refrigerator and gently fold combining any settled ingredients at the bottom of the bowl.
Remove Guacamole Salsa from the refrigerator.
Using your favorite wide mouth salad bowls or small dinner plates, place half the salad on each dish. Drizzle / spoon 1-2 tablespoons of the dressing over each salad (to taste). Top with interlaced shrimp and vegetables.
FOR MORE SERVINGS / APPETIZER SALADS
If you want to make the dish more fancy for guests, place the mold on the plate and place the salad inside pressing down to compress. Drizzle the guacamole dressing on the dish around the outside of the mold. Remove the mold and then place two shrimp and vegetables on top of the salad. See the photo for the perfect presentation.
Enjoy with good friends and a glass of Ascension Cellars.