Paprika Chicken Thighs with Garbanzo Beans & Roasted Tomotoes
PERFECT PAIRING:
2013 "Trinity" GSM
---
Yield:
About 4-6 Servings
---
1/3 cup extra-virgin olive oil
1 teaspoon crushed garlic
1 tablespoon smoked paprika
1 teaspoon ground cumin
1/2 teaspoon dried crushed red pepper
1/2 cup plain fat-free Greek yogurt
4-6 boneless chicken thighs (1 per person)
1 15-ounce can garbanzo beans (chickpeas), drained
2 12-ounce container cherry tomatoes
1/2 cup chopped fresh cilantro
Salt & Pepper
---
Directions: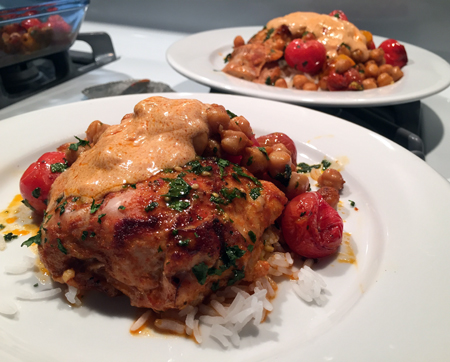 Preheat broiler to High. Make sure oven rack is in top position.
Mix first 5 ingredients in medium bowl. Pour 1 teaspoon spiced oil mixture into small bowl; whisk in yogurt and set aside for sauce. Place chicken on large rimmed baking sheet. Rub the rest of the spiced oil mixture over the chicken.
Add garbanzos, tomatoes, and 1/2 cup cilantro to remaining spiced oil mixture; toss to coat. Pour chickpeas and tomatoes around chicken. Sprinkle everything generously with salt and pepper.
Broil about 6-8 minutes per side until chicken is browned and tomatoes begin to burst.
Transfer 1 piece chicken and some vegetables to dinner plates. Top with a generous spoonful of yogurt sauce. Serve over cooked Jasmine rice or plain couscous if desired.