Peach, Tomato & Goat Cheese Crostini
PERFECT PAIRING:
Siren Rose
The amount needed really depends on how many people you are planning on serving. Though I have to say you should have plenty on hand since this flavor combination is totally addicting. I have adapted this recipe from several sources to suit my tastes. Feel free to do the same…
---
Yield:
Approximately 20 crackers, all depends on how you slice it.
---
Ingredients:
La Panzanella Croccantini Original Mini Crackers - I prefer these over bread for several reasons. They are already the perfect size. They are fat free (yay!). They are ready to serve, so no cutting or toasting needed…and most important of all…they don't get soggy if you prepare this ahead of time. However, if you want to make your own crostini….go for it!

1 Large, fresh, ripe peach, sliced thin

1 Large, ripe, heirloom tomato, sliced thin - please get the best you can afford. Being a minimalist dish, the flavor of these is very important to the final outcome.

1 - 12oz log of fresh Goat Cheese OR ball or Burrata OR slices of fresh Mozzeralla. (I prefer the tanginess of the goat cheese as a contrast to the sweetness of the rest of the dish, but I know many people don't enjoy goat. The other cheeses will do the trick.)

Fresh basil, coarsely chopped

Coarse Sea Salt

Extra Virgin Olive Oil

Balsamic vinegar (optional) - I say this because every recipe like this calls for it, but clearly from my photo I did not use any. Not sure why because I love BV…it was great without it, so make your own call.
---
Instructions: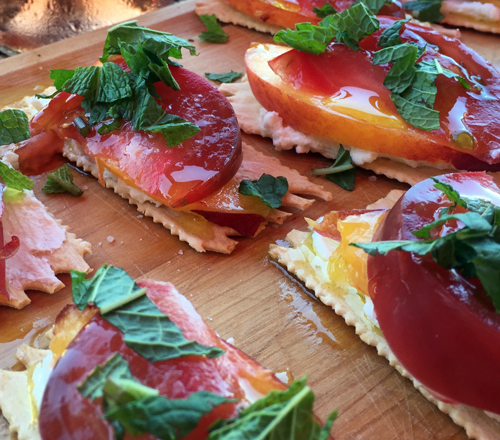 Place crackers on a serving tray. Smear with enough goat cheese to cover the cracker. Top with a slice of peach, slice of tomato. Sprinkle with sea salt and pepper. Top with basil leaves to cover and drizzle with olive oil (and balsamic vinegar if using). Serve immediately.
Alternatives: If you aren't a fan of goat cheese, I would swap it out with Burrata. Same texture and ease in spreading without the sharp tang of goat. Some recipes use traditional ball mozzarella, but this is already chewy enough, so I like a softer, creamier cheese.
Enjoy!