5th Annual Garagiste Festival: Urban Exposure
July 21, 2018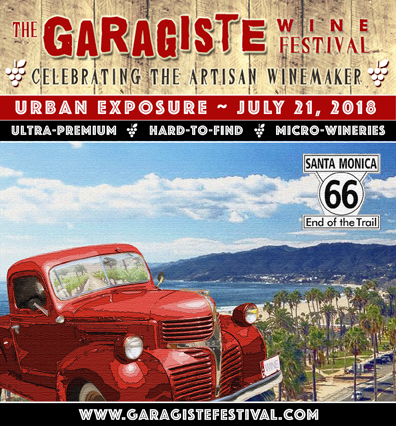 This event is dedicated to showcasing the wines of 50 high-quality, limited-production, commercial winemakers who are making under 1500 cases per year from all over California. We are thrilled to be participating again at this year's Festival which will take place in an historic and intimate building in the heart of Santa Monica.
The mission of Garagiste is to support the small guys and girls who don't have big marketing budgets or the time to get out there and sell their wine. These small-lot wines can be very hard to find. Over 60% of these winemakers don't have a tasting room, so this is a singular chance to discover the next great winemakers early...and impress your friends with your newfound knowledge!
TIME: 2:00-6:00pm / VIP Early Access begins at 2:00pm
LOCATION: 1210 Fourth Street, Santa Monica, CA 90401
TICKET ON SALE SOON!
Website: www.garagistefestival.com
« Back to Events