Cab Lover's Trio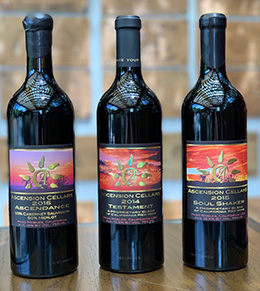 $140
Get 30% off full retail!
This package includes (1) bottle each of our 2015 Ascendance, 2014 Testament and 2015 Soul Shaker.
Cabernet is King across the wine world and we have three amazing Cab-based blends that are guaranteed to knock your socks off...or impress the wine snob in your life. They only drink the best, so we think you should give it to them. After all, who are we to argue? Each of these wines bring something different to the table, yet all are based on the blending techniques of the Bordeaux region.
While great with food, they are equally sublime savored by a roaring fire with the ones you love. Big and bold, but also filled with finesse. That's how we roll.
(Trio price does not include tax or shipping.)
Full Retail Value: $208
Vineyard: Cass Vineyards
AVA: Paso Robles / Geneseo District
Awards:
2015 ASCENDANCE

SILVER MEDAL – 2019 LA International Wine Competition

SILVER MEDAL – 2019 Sunset International Wine Competition

SILVER MEDAL - 2018 Orange County Wine Competition

BRONZE MEDAL – 2019 San Francisco Chronicle Wine Competition


2015 SOUL SHAKER

SILVER MEDAL – 2019 Orange County Wine Competition

SILVER MEDAL – 2019 Sunset Magazine Wine Competition

SILVER MEDAL – 2019 Toast of the Coast Wine Competition

BRONZE MEDAL - 2019 San Francisco Chronicle Wine Competition


2014 TESTAMENT

DOUBLE GOLD MEDAL – 2018 Toast of the Coast Wine Competition

SILVER MEDAL – 2018 LA International Wine Competition

BRONZE MEDAL - 2018 San Francisco Chronicle Wine Competition