Syrah Lover's Trio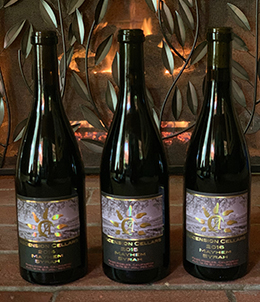 $112
This package includes (1) bottle each of our library selections 2014 and 2015, as well as our new release 2016 Mayhem Syrah.
We just LOVE Syrah. We know many people do not understand it, but this grape varietal holds a special place in our hearts. Unlike Cabernet, it's not always easy to capture a consistent style. Vintage plays a huge part in what happens in the bottle. While there is a full-forward fruit and meaty quality to each of these wines, they truly showcase the year more than any other wines we make. This vertical showcases each vintage but also an evolution of our house style.
(3-Pack price does not include tax or shipping)
Full Retail Value: $186
Composition: Mostly Syrah in each vintage with slight mix of Petit Verdot and Roussanne.
Vineyard: Cass Vineyards
AVA: Geneseo District / Paso Robles AVA
Awards:
>> 2016 <<
DOUBLE GOLD -- 2020 Toast of the Coast Wine Competition

GOLD MEDAL - 2020 Central Coast Wine Competition

BRONZE -- 2020 San Francisco Chronicle Wine Competition


>> 2015 <<
GOLD MEDAL - 90 Points - 2018 Toast of the Coast Wine Competition

SILVER MEDAL - 2018 San Francisco Chronicle Wine Competition

SILVER MEDAL - 2018 Orange County Wine Competition

SILVER MEDAL - 2018 Central Coast Wine Competition

BRONZE MEDAL- 2018 LA International Wine Competition


>> 2014 <<
BEST IN CLASS / GOLD MEDAL / 96 Points - 2017 LA International Wine Competition

BEST IN CLASS / GOLD MEDAL - 2017 Sunset Magazine International Wine Competition

GOLD MEDAL - 2017 San Francisco Chronicle Wine Competition

GOLD MEDAL - 2017 OC Fair Wine Competition

SILVER MEDAL - 2017 Winemaker Challenge

SILVER MEDAL - 2017 Central Coast Wine Competition