2014 Vintage 4-Pack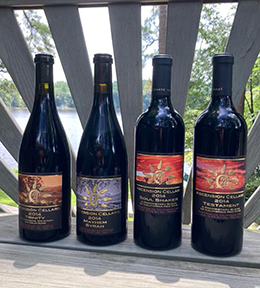 $175
We are turning back the clock and crafting a wine package from a better time -- 2014. It was a stellar vintage and these wines have won a ton of awards. They are in their sweet spot right now and ready to be drunk. Considered them pre-aged! We have taste-tested them just to be sure.:)
These wines are limited, so get yours before they are gone! Over 40% off! Current Club Members get 50% off full retail price. Club Discount will be assessed on final processing.
Then crack these bottles open and enjoy! There is no time like the present!
Full Retail Value: $300
Discount price does not include CA Sales Tax or shipping.
Vineyard: Cass Vineyards
AVA: Geneseo District / Paso Robles AVA
Awards:
>> 2014 MAYHEM SYRAH <<

BEST IN CLASS / GOLD MEDAL / 96 Points - 2017 LA International Wine Competition

BEST IN CLASS / GOLD MEDAL - 2017 Sunset Magazine International Wine Competition

GOLD MEDAL - 2017 San Francisco Chronicle Wine Competition

GOLD MEDAL - 2017 OC Fair Wine Competition

SILVER MEDAL - 2017 Winemaker Challenge

SILVER MEDAL - 2017 Central Coast Wine Competition


>> 2014 TRINITY GSM <<

GOLD MEDAL / 90 Points - 2018 Toast of the Coast Wine Competition

GOLD MEDAL / 91 Points - 2017 LA International Wine Competition

SILVER MEDAL - 2018 Winemaker Challenge Wine Competition

SILVER MEDAL - 2017 Central Coast Wine Competition

SILVER MEDAL - 2018 San Francisco Chronicle Wine Competition


>> 2014 SOUL SHAKER <<

SILVER MEDAL - 2018 Toast of the Coast Wine Competition

SILVER MEDAL - 2018 LA International Wine Competition

SILVER MEDAL - 2018 Winemaker Challenge Wine Competition

BRONZE MEDAL - 2017 Central Coast Wine Competition


>> 2014 TESTAMENT <<

DOUBLE GOLD - 94 Points - 2018 Toast of the Coast Wine Competition

SILVER MEDAL - 2018 LA International Wine Competition

BRONZE MEDAL - 2018 SF Chronicle Wine Competition