2013 Vintage 4-Pack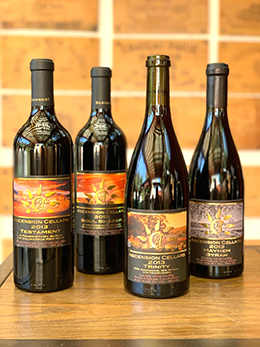 $175
Since 2020 has been such a mess, we are turning back the clock and crafting a wine package from a better time -- 2013. It was a stellar vintage and these wines have won a ton of awards. They are in their sweet spot right now and ready to be drunk. Considered them pre-aged! We have taste-tested them just to be sure.:) These wines are extremely limited.
Only 24 gift packs are available at this price, so get yours before they are gone!
Then crack these bottles open and enjoy! There is no time like the present!
>> Current club members get an additional $10 off this package price. Discount will be credited when the order is processed. <<
Full Retail Value: $300
Vineyard: Cass Vineyards
AVA: Geneseo District / Paso Robles AVA
Awards:
>> 2013 MAYHEM SYRAH <<

SILVER MEDAL – 2016 Critics Challenge International Wine Competition

SILVER MEDAL – 2016 Orange County Wine Society Wine Competition

SILVER MEDAL – 2016 Toast of the Coast Wine Competition

BRONZE MEDAL – 2016 San Francisco Chronicle Wine Competition


>> 2013 TRINITY GSM <<

"Best of Class" / GOLD MEDAL / 95 Points – 2016 Los Angeles International Wine Competition

GOLD MEDAL / 92 points – 2016 Critics Challenge International Wine Competition

GOLD MEDAL – 2016 Orange County Wine Society Wine Competition

SILVER MEDAL – 2016 Sommelier Challenge Wine Competition

SILVER MEDAL - 2016 Toast of the Coast Wine Competition

BRONZE MEDAL – 2016 San Francisco Chronicle Wine Competition


>> 2013 SOUL SHAKER <<

GOLD MEDAL / 91 points – 2016 Critics Challenge International Wine Competition

GOLD MEDAL – 2016 Orange County Wine Society Wine Competition

SILVER MEDAL – 2016 Central Coast Wine Competition

SILVER MEDAL – 2016 Los Angeles International Wine Competition

BRONZE MEDAL - 2017 San Francisco Chronicle Wine Competition


>> 2013 TESTAMENT <<

91 Points / GOLD MEDAL - 2017 Winemaker Challenge

SILVER MEDAL - 2017 San Francisco Chronicle Wine Competition

SILVER MEDAL – 2016 Central Coast Wine Competition

SILVER MEDAL – 2016 Los Angeles International Wine Competition

BRONZE MEDAL – 2016 Orange County Wine Society Wine Competition