Summer Sippers - 4-Pack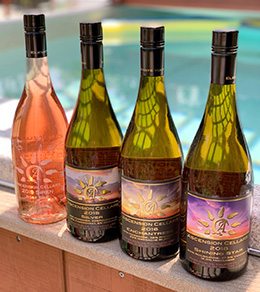 $99
Bundle price is over 30% off retail!
Summer is here and we are thrilled to be drinking outside once again. There's nothing better than white wine and sunshine. A perfect pairing to be sure. This Summer Sipping pack includes (1) bottle each of our brand new 2019 Siren Rose, as well as our award-winning 2015 Silver Blanc (Chardonnay Blend), 2016 Echantress Blanc (Grenache Blanc Blend) and 2018 Shining Star (Roussanne Blend).
All of these wines are crafted from the Cass Vineyard in Paso Robles. We just love blending and all of these wines showcase how the sum is better than the whole. These wines are ready to be enjoyed, so get your 4-pack today!
(Trio price does not include tax or shipping.)
Full Retail Value: $141
Vineyard: Cass Vineyard
AVA: Geneseo District / Paso Robles AVA
Awards:
> 2018 SHINING STAR <

GOLD MEDAL: 2019 Los Angeles International Wine Competition

SILVER MEDAL: 2020 Toast of the Coast International Wine Competition

BRONZE MEDAL: 2019 OC Wine Society Competition


> 2016 ENCHANTRESS BLANC <

BEST IN CLASS / GOLD MEDAL / 93 Points - 2017 LA International Wine Competition

GOLD MEDAL - 2017 Sunset Magazine International Wine Competition

GOLD MEDAL - 2017 OC Fair Wine Competition

SILVER MEDAL - 2017 Central Coast Wine Competition

SILVER MEDAL - 2018 SF Chronicle Wine Competition


> 2015 SILVER BLANC <

"Best of Class" / GOLD MEDAL / 92 Points – 2016 Los Angeles International Wine Competition

"Best of Class" / GOLD MEDAL – 2016 Sunset Magazine International Wine Competition

DOUBLE GOLD - 2017 San Francisco Chronicle Wine Competition

GOLD MEDAL / 90 Points – 2016 Central Coast Wine Competition

GOLD MEDAL – 2016 Orange County Wine Society Wine Competition

SILVER MEDAL – 2016 Sommelier Challenge Wine Competition

SILVER MEDAL / 89 points – 2016 Critics Challenge International Wine Competition