2014 Rapture Primitivo Dessert Wine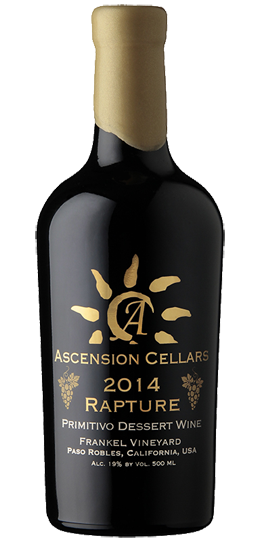 $49
This fathomless, deep violet, unfiltered Primitivo Port-style dessert wine boasts aromas of ripe fig, caramel, dried, dark black fruit, violets, and cocoa. Rich flavors of red and blackberry fruit dominate the palate along with hints of cinnamon and clove, culminating in a scintillating finish. Rapture Primitivo dessert wine will continue to evolve and develop profound characteristics of dark chocolate if allowed to bottle age in the cellar over the next 9 to 15 years. Closed with cork and sealed with wax.*
Winemaking Process: Early morning handpicks of the late harvest Primitivo at Frankel Vineyard was completed at the peak of brix ripeness. The fruit was then allowed to cold soak for four days prior to the start of fermentation. Cold soaking or Cold Maceration is a technique where freshly picked and de-stemmed Primitivo berries and juice where kept in a tank at low temperatures typically about 48 degrees Fahrenheit. During the cold soak, the juice and grape skins do not begin fermentation.
The wine was then fermented in open top fermenters, punched down 4-5 times daily for maximum color extraction and then fortified by the addition of a neutral grape spirit known as "aguardente" in order to stop the fermentation, leaving a natural residual sugar of 11% in the wine. Our Rapture Primitivo was then aged for thirty-two months in new French oak barrels with a medium-plus toast. The wine was topped off during aging with dry Cabernet Sauvignon to replace the "angel's share" and prevent oxidation. It was bottled unfiltered in 500ml bottles in late July 2017.
Pairings: Pairs delightfully with Crème brûlée, brownies, molten chocolate cake, over vanilla ice cream, or anything with blueberries, blackberries or raspberries.
Size: 500ml
*We have sealed the bottle with soft wax. You do not need to scrape or cut it off. Just push a regular corkscrew through the wax and pull. It will come right though. Remove any loose pieces before pouring, so you don't get any wax in your glass.
Composition: 97% Primitivo / 3% Cabernet Sauvignon
Vineyard: Frankel Vineyard / Geneseo District
AVA: Paso Robles AVA
Alchohol: 19%
Residual Sugar: 10%
Production: 75 cases produced
Awards:
GOLD MEDAL - 91 Points - 2018 Toast of the Coast Wine Competition

GOLD MEDAL - 90 Points - 2018 LA International Wine Competition

SILVER MEDAL - 2018 SF Chronicle Wine Competition

SILVER MEDAL - 89 Points - 2018 Orange County Wine Competition

SILVER MEDAL - 2018 Central Coast Wine Competition